PULASKI COUNTY, Ark. -- The Pulaski County Special School District Board of Education awarded the second quarter Inspiration in Education award for the 2022-2023 school year at its board meeting on Tuesday, December 13, 2022.
The second installment of this school year's Inspiration in Education award was presented to Carol Crain, a custodian at Maumelle Middle School. There were 17 PCSSD different employees among the nominations for this second quarter award and Crain was nominated twice by two different colleagues at Maumelle Middle.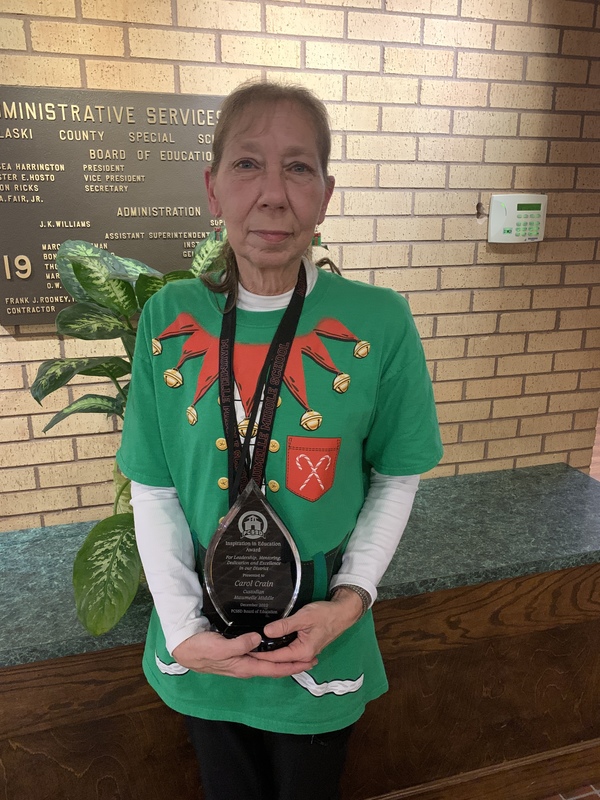 Crain is new to Maumelle Middle this school year; however, she has worked for PCSSD for more than 20 years, starting in 1998 working in student nutrition and after school program. Most recently, Crain worked at Crystal Hill Elementary before coming to Maumelle Middle. Since she was in the Maumelle feeder, many of the students have known her for several years as they transitioned from elementary to middle school.
"She addresses students by name and is quick to offer a smile and kind word while attending to her multitude of responsibilities," said Lisa Counts who works with Crain at Maumelle Middle'
Many teachers and staff pointed out the kindness and generosity that Crain exhibits every day at the school. According to her coworkers, the hallways, classrooms and shared spaces have never looked better thanks to Crain's attention to detail.
"She even provides special items such as fragrant soaps in staff restrooms, using money out of her own pocket. Although that may seem like a small gesture, we teachers notice and appreciate Ms. Crain's thoughtfulness.," said Kamala Anderson who also works with Crain at Maumelle Middle.
The Board of Education created the Inspiration in Education award to honor certified and support staff members who are inspirational to their students or colleagues in their roles at PCSSD. Additionally, the award recognizes employees who exhibit traits including leadership, mentoring, dedication, excellence and effectiveness in their places of work.
The Inspiration in Education award is presented to the winner quarterly in October, December, February and May. Anyone may nominate a PCSSD employee for the award. The applications are reviewed by the Superintendent's Cabinet for ranking, and the highest scorer is named the quarterly winner and receives the award from the PCSSD Board of Education.