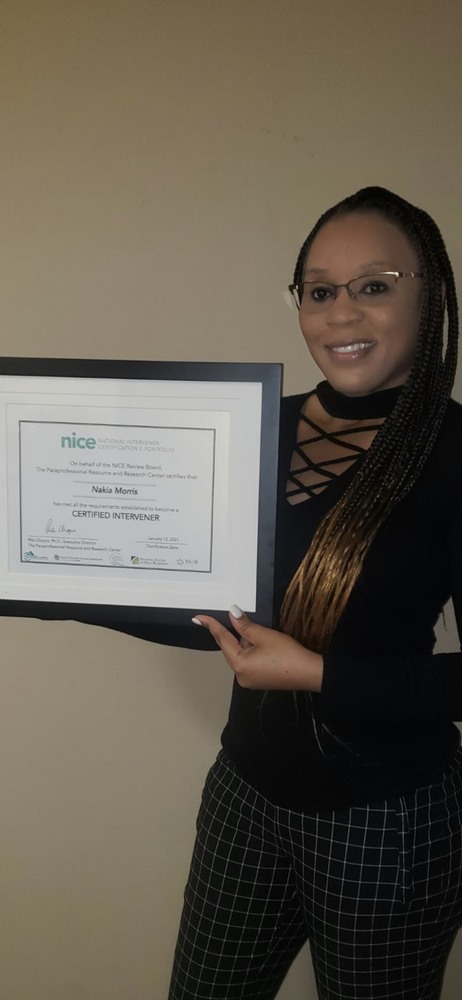 PCSSD Paraprofessional Earns Special Certification
PCSSD
Thursday, February 04, 2021
PULASKI COUNTY, Ark. -- A Pulaski County Special School District paraprofessional is the first in the state of Arkansas to become a certified intervener from the Paraprofessional Resource and Research Center. Interveners have received specialized training in deaf-blindness and the process of intervention.
Nakia Morris has been a paraprofessional with the Pulaski County Special School District since 2006. Prior to her time at PCSSD, Morris was a certified nursing assistant through the Red Cross as well as a teaching assistant in the preschool department at Easter Seals as a teaching assistant.
"She was already a great paraprofessional but this intense training puts her at the top of the most desired paraprofessionals (now an intervener) for students with dual sensory impairments," said Jennifer Walkup, educational consultant with the Division of Elementary and Secondary Education.
She worked as a one-to-one paraprofessional with a student throughout his time in the district - from Crystal Hill Elementary to Maumelle Middle to Maumelle High. The student graduated in 2020 and she remains at Maumelle High working in the life skills class.
"If all students with deafblindness had interveners like Nakia, I know we would have much better outcomes when the students graduate - students who communicate better, students who have full access to their learning environment, and more students who graduate being ready for college and/or career," Walkup added.
Interveners help schools meet the challenge of providing students who are deaf-blind with access to information they are unable to gather via vision and hearing. An intervener works one-on-one with a student, facilitating communication and supporting concept development.
Morris completed the Intervenor Training Project in collaboration with the National Center of Deaf-Blindness. The training included an online course of study, coaching and consultation, and development of a portfolio required for the certification.