First Grader's Kindness Goes Viral
PCSSD
Wednesday, December 18, 2019
NORTH LITTLE ROCK, Ark. -- A first grader at Crystal Hill Elementary is showing others the important of kindness this holiday season.
Students in Mrs Vanessa Schoessel's first grade class participate in PBIS, a district initiative that encourages positive behavior. Students earn points for their good behavior that can later be cashed in for prizes in the classroom store.
Every Friday, students have the option to save their points or "buy" something from the class store. For several weeks, 7-year-old Samuel Roberts, Jr. saved his points until he reached 200. Once a student reaches 200 points, they get to have lunch with the teacher. Mrs. Schoessel takes the student wherever he/she wants to go, her treat!
Instead of picking McDonald's, Chick-fil-A or something similar, Samuel wanted to go to Walmart to buy snacks for his family. Mrs. Schoessel was so touched by Samuel's kindness, she shared the story on her Facebook page. Since posting on December 13, the post has been shared more than 12,000 times and has nearly 1,000 comments!
Mrs. Schoessel says Samuel's act of kindness is inspiring everyone, including his fellow students, to choose kindness over anything else.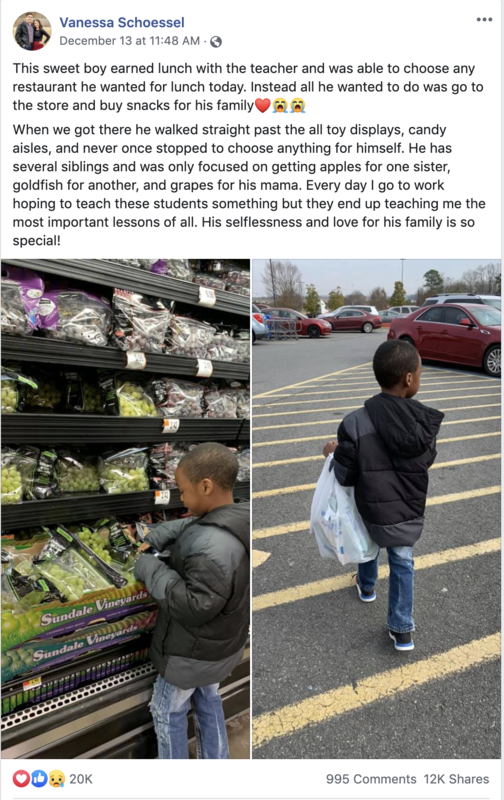 KARK Feature on Samuel and Mrs. Schoessel

THV Feature on the Facebook post:
KATV Feature on Samuel and Mrs. Schoessel:

Skype interview about the Facebook post